Mr. Ex Nihilo
Member (Idle past 4721 days)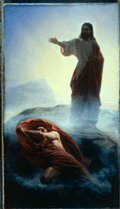 Posts: 708
Joined: 04-12-2005
Message 16 of 16

(302261)




04-07-2006 11:41 PM

Reply to: Message 15 by Brian
04-07-2006 7:19 AM
---
Re: Perhaps the waters are symbolic of Gentiles
---
Brian writes:
Thanks for your thoughful reply.
No problem. Like I said, it's just a thought I've had for a while. I haven't put too much thought into it though-- and I personally wouldn't put too much stock in it.
Besides that, the big boat floating around in the story seems to defy any attempts to make the rising waters into an allegory for human warfare. :(
Consequently, I think you hit the nail on the head with this...
Brian writes:
On a simple level, if the world has become 'dirty' then what do humans normally use to clean things? Well, water would more than likely be the ancient's answer, so the world is 'dirty' and God 'cleans' it by using water. Just a thought.
And it's a good thought at that. :)
---
This message is a reply to:
Message 15 by Brian, posted 04-07-2006 7:19 AM
Brian has not yet responded
---