RAZD
Member

Posts: 19807
From: the other end of the sidewalk
Joined: 03-14-2004
Member Rating: 10.0
Message 16 of 16

(393394)




04-04-2007 8:08 PM

Reply to: Message 13 by jar
04-04-2007 12:34 PM
---
Re: Stego on the rocks
---
And {{{GOSH}}} it matches the petroglyph near Agawa Ontario

http://www.gowaterfalling.com/waterfalls/places/lakesuperiorprovpark.shtml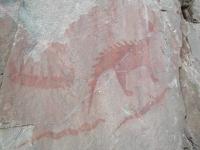 Notice the similarity in body shape and the horns on the head ....
the Ojibwa name is Mishipishu (or phonetic variations on that spelling)
:rolleyes:
There is a simple explanation. Other people found fossils, and then imagined what the creatures were like.
Enjoy.
---
Join the effort to unravel AIDS/HIV, unfold Proteomes, fight Cancer,
compare Fiocruz Genome and fight Muscular Dystrophy with Team EvC! (click)
---
we are limited in our ability to understand
by our ability to understand
RebelAAmericanOZen[Deist
... to learn ... to think ... to live ... to laugh ...
to share.
---
This message is a reply to:
Message 13 by jar, posted 04-04-2007 12:34 PM
jar has not yet responded
---