Dawn Bertot writes:
Im sorry I thought you said you did not interpret things.
no dawn, an interpretation would involve a little more than simply reading the text, and explaining what it means on the most basic, literal level. it might involve speculation on details that are not included in the text, as i did with ramoss.
I know you dont want to believe you interpreted it, but you did. Even after your interpretations you are still not certaiin who the child is or is not.
the text of isaiah does not identify who the imanuel child is. matthew does, but his identification does not fit with isaiah's description. it's really that simple. the text does not say who the child is, but it's pretty clear about who it cannot be.
saying that the child is likely hezekiah is a relatively common interpretation of what isaiah means, because it fits the structure and theme of isaiah, and the historical context. but one has to interpret all of the data to reach that conclusion. conversely, one who does not fit even the most basic qualifiers, or any of that data, can be excluded fairly easily. if i read isaiah and came to the conclusion that it was really about me, you'd call me nuts and say that i clearly haven't read the text very well. the fact that the text is not about me is not an interpretation. it's simple reading comprehension.
arachnophilia writes:
there are several legitimate interpretations of who the imanuel child was
really Arch, no interpretation, get real.
since you obviously lack any common sense whatsoever, and the ability to read and think clearly about things people write, i will attempt to explain this. again.
my initial post did not offer any interpretation. this does not mean that i do not interpret, or that i cannot point out that there are interpretations. do you understand the difference? i suspect not. i knew i shouldn't bring up interpretation when you can't even read and comprehend. you must first recognize what the text says before you can begin to interpret it.
Those options have nothing to do with my position and they in no way rule out Christ as that fulfilment, if the bigger picture in Gods plan is taken into consideration. Your is an observation, not a valid argument for removing Christ as the fulfillment in a fuller sense.
you have failed to explain what this fuller sense even is ("ITS GAWD!" will not suffice, you're going to have to dig a bit deeper) or why it should negate context and re-fulfill an already fulfilled prophecy.
It most certainly can be about Jesus if God actually inspired Isa and matthew to write down his wishes and plans
if. and if the cart came before the horse... the fact that matthew misrepresent isaiah kind of negates that idea. and that's the whole point.
Not only do you not read the text, YOU DONT REALLY BELIEVE or accept the entire context, that has to with God or inspiration. You pretend at inspiration and use it when its conveient. My claims to rationality in this respect are of course more valid than yours. I atleast have the common sense to accept it all or reject it all.
that is not common sense. it might be common, but it's not sense. there is absolutely no reason that one must accept or deny the entire christian in one fell swoop. certainly, there are many different canons that attest to this fact. further, you have shown your reading ability, or lack thereof, every single time you have cited the bible in this thread. how do you manage to get it wrong every time? that's pretty impressive, i must say.
You honestly believe you have the talent to decide which part is inspired and which part is not, yet you will not reveal the aspects of such a talent
as i keep saying, over and over because you simply do not get it, inspiration is not relevant. it is simply that matthew misrepresent isaiah. it doesn't matter if isaiah is the inerrant word of god, or a complete work of fiction. it really has no bearing on the discussion at all. all that matters is how matthew treats what isaiah said. and since he does not represent it correctly, we can presume that one or both is not the inerrant word of god.
further, you yourself seem to believe that you have this talent. whereas i have deferred on the question of inspiration given every opportunity, you have made repeated claims about why you suspect the bible is inspired ("IT SAIS SO!") and why the quran and book of mormon are not. please, describe to me what method you are using to determine whether or not a book is inspired -- and demonstrate that you've read any of the books we're discussing here by examining them according to those aspects, and in comparison to the others. remember, your criteria is only valid if it doesn't also describe the other sources you are excluding.
More false accusations by Arch. Your misunderstandings do not a misrepresentation make, on my part The false prophets were being sarcastic about a method of teaching that would have actually applied to them if they had stop to think for a moment. Thier arrogance got in the way, but such a thing was the very thing they needed
AGAIN! with thinking that false prophets speak the truth! and i'm sure the fools were correct when they said "there is no god"? and the satan correct when he told christ he could give him all earthly kingdoms, or told god that job only obeyed him because he was so blessed?
You know young fellow you may not get this now but eventually it will click down the road. Your not comparing two texts, your comparing and isolating parts of the text, forgetting what the entire text has to say concerning God and intervention and inspiration
do you really not recognize that isaiah and matthew were different people?
Trying to make any text make sense without that clear and present principle in scripture is foolish and irresponsible
you know, old man, that it's actually quite the opposite. the only way the text makes any sense is without that idea. once you discard it, everything falls into place. the text is no longer a gobbledygook of "precept after precept", but rather has structure and function and purpose. the text simply does not make any sense as one giant stream of nonsense.
Because I have a brain Arch,
i'm sure you do, but that really remains to be demonstrated. please, indulge me, and try to use it.
I know it makes more logical sense to accept or reject it all, than to intimate here and there about Gods "possible" involvement.
no, that's just silly. you would never say the same thing about a science textbook, or a math textbook. it might be mostly right -- but the disproof of that one bit that's wrong is quite valuable to the academic community. further, what we have in the bible is really a library of texts, written over the course of roughly 1000 years, by 70-ish authors (or more), in three different languages. we have books that are history, books that are poetry/song, books that argue philosophical points, books that record the teachings of prophets, and books of law. you would never dream of walking into a library, and exclaiming that one must either accept or deny every scrap of information contained therein. that would be ludicrous in the extreme.
now, i know that you don't see the bible this way. and that is, perhaps, part of your problem. you have no basis for telling the history from the prophecy, the song from the law. you don't even have the ability to tell the words of the song-writer from the words of the subject of the song, or the reason to tell the difference between the words of the prophet and the words of people he is condemning. you probably think both job and his friends are right, because there they are, both recorded in the word of god. you can't tell head from tails -- and you want to lecture me about logic? that's really too funny.
Heres a little test for you. Go through the Bible and see which there is more of, prophecies or "Thus saith the Lord", or something to that affect. See which one is more prevelant
quite a lot of prophecies begin with "thus saith the lord", so i have no idea what you're talking about.
You are the one that said Matthew was not a prophet but a student. Which implies that you indirectly believe he existed and that may be the author.
no, it doesn't imply that. it implies that i was arguing against your point. even if you accept that matthew is the author, as i suspect that you do, it's still silly to claim him as a prophet.
My repsonse was to your accusation of "no prophet", which was, that Christ made them prophets. Not whether he existed or was the author or it is that should be accepted as inspired. those are seperate issues
sure. and paul was a prophet, too, right? oh, and joseph smith. christ personally contacted him. oh, and muhammad. god personally contacted him, too. all of these, of course, are recorded in their appropriate holy books. the question i am asking you is what make the authors of the NT valid as "prophets", but joseph smith or muhammad invalid? what criteria do you use to tell the difference?
yes i am aware of all these facts and I am also aware of the fact that if God was in the process, as is indicated more than any other point in scripture, he is able to maintain and provide to his people what they need through the ages

"According as his divine power HAS GIVEN TO US all things pertaining to LIFE andd GODLINESS"

As in the first century and as illustrated by the dead sea scrolls, God is able to maintain through time the purity of his teaching. Yes there will always be, as in the first century and any century false teachings side by side with the truth.
this does no answer the question as to why some canons have more texts in them.
Like the ones today and in the first century, the psuedo teachings (Gospel of Thomas), etc,were immediately recognized as false teaching and fell by the wayside
so, you might have noticed that i didn't actually bring up anything non-canonical, like thomas. i was only discussing stuff that is in a canon, somewhere. things that are accepted by large numbers of people, and official councils, and such. what about the apocrypha? why does catholicism have it, but protestantism doesn't? clearly, those are both christian faiths. the mormons will protest, too, saying they're a christian faith. their canon has a whole extra section. and adding new revelation is apparently ok, as this is precisely what the christians did.
it should be obvious that only recent discoveries of such books makes it clear the people of that day did not regard them as reliable, trustworthy or accurate, so they were discarded in favor of the truth
if truth, in that level of detail, were a primary concern, don't you suspect that the gospels wouldn't contradict? or rather, that we'd have one of them? clearly, they were using a model that was very similar to the jewish one: inclusion based on the teaching value of the story. accuracy is great, but it was never the primary focus. the bible is a book of theology.
the truth in the Old and New have stood the test of time and reason.
until you consult archaeology, anyways.
Im sure the same God that created the entire universe could maintain the purity of the written word as is clearly indicated by the discovery of the dea sea scrolls
i'm sure he could too. why didn't he? oh, but the DSS, you say. okay. how come my bible doesn't have a book of enoch? fragments were found in the DSS. nobody's really talking about the ability of scribes to maintain the text. i'm fairly confident that at least the jewish scribes could do that. we're talking about which texts were accepted, and which were not. and there's quite a lot of stuff in the dead sea scrolls that is simply not in any modern canon. the biblical stuff is less than half of the total contents of the DSS.
Yes there are many claims to inspiration outside the standard Bible. However it is my goal presently to demonstrate that not only do you disbelieve the BOM and the Koran claims, but even the one you are using presently, that is repleat with inspirational claims, including Isa
i believe i have given you my standard: deuteronomy 18.
So arch, is Isa from God or man, in your view?
gee, i dunno dawn. i thought we couldn't discuss just one book without discussing them all?
Actually son, with you there is very little to critique, because as I earlier suspected, you really believe very little of what scripture has to say in fact, even if you are looking and reading Just the text
i don't know why you think belief is relevant to the question of what a text says. do the words magically change when i put on my magic glasses? do i need special magic stone in a hat, or magic underwear? oh wait, no, that's mormonism.
This gets funner by the minute. Yes the Bible is the monolith I thinkl it is, but ironically it is not me that has decided that, it is time, test and reality.
well, it's your particular fundie church, not you. i categorically deny giving you credit for thinking of something on your own, however misguided it may be. but the rest of us can see structure and divisions and sense within the text. that includes people educated in divinity, theology, seminary, and academic bible studies. or really, anyone who can see the places people have added book titles.
Which is now predominant Arch, the divisions and types of scripture you cite above
yes. those are all current accepted canons of scripture. ask any jewish person -- they've got a torah (five books of the law), a nevi'im (prophets, including samuel/kings, isaiah, jeremiah, ezekiel, and the 12 minor prophets), and a kethuvim (other writings). they're grouped by canonization date, and by priority of revelation. the smallest canon you will see is just the torah, or chumash (from the hebrew word for "five"). sometimes this includes excerpts from other scripture (mostly prophets), called a haftorot. sometimes, all three main sections are grouped together in a TaNaKh (a nonsense word that is made from the initials of "torah", "nevi'im", and "kethuvim").
on top of that, there is the mishnah (which contains parts of the oral law), the talmud (which records many discussions, including references to the oral law), the midrashim (commentary, sort of similar to epistles), and the qabala (mystical texts). these are all accepted canons, all have different purposes and structures, and all are regarded as holy in some degree. of course, the torah is the most holy.
or that which is commoly recieved and accepted in the 66 books of old and 27 of the New.
count 'em again. i suggest looking at a page like this that will show you the contents of the bible, and the major different canons that are you there. the highest number of books i can count in the OT is 61, and that's counting all of the apocrypha, the five books of psalms as separate, first and second scrolls of some books (samuel/kings/ezra-nehemiah) as separate, etc. the smaller number i can count in the standard masoretic tanakh is 24. and even that counts deuteronomy and joshua as separate, when they were really written as one.
so, i'm at the point now where i've realized that you don't even know what's in your bible, nevermind what it says.
this is not the only test but it is one that has stood the test of time
except for all the major churches that disagree. like the catholics. and eastern orthodox.
the mechanism you request my simplistic friend is actually YOUR OWN TEST, its the rules you set up in our discussion here. What are they? "What does the text say" and "what does the text mean". well, I see God, intervention, promises of guidance, prophecy and inspiration, repleat throughout scripture

My mechanism is both the scriptures themself and the simple rules you have provided me. So immediately a simple comparison and understanding of the entire text, more That is unless you now have some additional rules you would now like to introduce.
you've missed the step where if two things disagree, they don't agree.
But this is not the problem or the issue is it Arch.? the real issue and the one you keep avoiding is three-fold. 1. You dont really believe Isa or whoever wrote Isa was inspired to begin with.
maybe i do. and perhaps my definition of inspiration is a little different than yours. but that is neither here, nor there, because it simply is not relevant to this discussion. i know you would like it to be but...
2. Because of this lack of belief, it does not let you follow the the very rules you established to evaluate scripture, "what does the simple text say" and "what is written in the text",
...you do not have to believe something to just read it. perhaps this is why you've never gone and read the book of mormon, or the quran, because you think you'd have to believe it first. no, you do not. perhaps this is why you don't read my posts. it just takes reading. it's not very hard, and i read lots of stuff that simply isn't true, all the time. for instance, just about anything a creationist posts. your posts, and your inane ideas about what "logic" is.
because you eliminate either deliberatley or in argument form the ENTIRE TEXT to force a conclusion about God overall purposes
you haven't demonstrated that you can read smaller context. i think you should get to that point before you try to discuss larger context. i absolutely am not eliminating that larger context, or ignoring isaiah's place in a larger structure of the bible. i simply believe that that sort of argument should be built from the facts of the individual texts -- not formed a priori such that the facts have to shoehorned into place.
3. And more importantly of them all, it does not qualify you to make the assertion that matthew is misrepresenting or misquoting Isa's words, because you choose only partsof his or others writers words to make the
that's all that matthew quotes from that section of isaiah. if you feel that elsewhere in matthew, he brings up how christ actually lived 700 years prior his own birth, and helped save judah from the assyrians, feel free to point out where.
Remember Arch, we are at this point just going by your rules and you dont even seem to want to adhere to your own rules. I know this for a fact because you keep repeating that inspiration is irrelevant, when the scriptures make it so very important
fine. isaiah claims inspiration in the very first verse, and at every turn he receives a message from god. where does matthew make this claim? not john making a claim about a group that he doesn't even list matthew as being a part of. not paul saying that scripture (which scripture?) is inspired. where does matthew make the claim, about himself?
arachnophilia writes:
i have never claimed that isaiah wasn't divinely inspired. just that matthew's interpretation is not founded in what isaiah wrote -- thus, dishonest.
If Isa was inspired then it should be clear these are Gods words, wishes and plans and not Isa's
that's fine. why should i think the same about matthew? especially when he misinterprets what isaiah wrote?
Really arch, lets see about you indirect claim to inspiration. Do you recall the time the teachers of the law challenged Jesus concerning his authority to teach and practice signs. "By what authority do you do these things", they said and he said Ill answer your question if you will answer mine. "Johns teaching, was it from God or man"? Now in truth Jesus had already answered thier question many times before, but he knew there was a DEEPER PROBLEM. they didnt really believe in him at all to begin with, much less whether he had the proper authority
so, um, read it again.
quote:

---

But if we shall say, Of men; we fear the people; for all hold John as a prophet. (Matthew 21:26)

---
they didn't believe john either. clearly they believed some teachings were from god -- just not john's. or jesus's.
So lets test your resolve. You say you have never denied it. Ok, so I ask you directly. Isa's teachings and words Arch, were they from man or God? Or which parts of the book are inspired and which are not?
isaiah the prophet spoke the words of god. the question of inspiration for the book is wholly different: it was written by a human being, a follower/student of isaiah, perhaps many years later.
lets see if like the teachers of the law, you will avoid answering the question directly. Because as i supect there is a deeper issue and God, intervention and inspiration do matter
to comparing two texts? no, they don't.
arachnophilia writes:
do, the bible cannot make god's plans known? ok. i'll follow you for a second here. so, the inspired matthew reveals isaiah's true meaning. but... who reveals matthew's true meaning? ...and who reveal's that person's meaning?
Paul and the rest of the NT epistles.
okay! with you so far. now, who reveals the true meaning of paul and rest of the NT epistles?
Jesus fulfilled IT by sealing the deal, "It is finished" he fulfilled the requirements of the law of Moses.
funny, in my copy of matthew, he says, אלי אלי למא שבקתני, "my god, my god, why have you forsaken me?"
"But if any man desires to DO THE LAW he is a debitor to keep the WHOLE LAW"
i'm not actually convinced that paul has read much of the law, either. and i know that you haven't.
when you are willing to accept your own rules by including the entire text, the you will see these are Gods words not Isa's, therefore matthew cannot and is not misrepresenting anyone, especially God. Its only and always about God
cart before the horse again. matthew does misrepresent isaiah. that's a statement of fact. it's not based on my opinion of the text, or my belief. he does misrepresent isaiah. isaiah is clearly talking about a child born in 700 BC, and a context that has to do with current events. not something that occurs 700 years later -- the eventual spiritual salvation of mankind would not have reassured ahaz in the slightest bit. he had a very real, not-spiritual, army beating down his door. the passage was about his physical salvation from the invading israelites (and assyrians) -- and a salvation he actually buys.
now, perhaps his son, hezekiah, becomes emblematic of the coming messiah. that might be an interesting topic from another discussion. but that is not how matthew is using the text at all. and your "it's only and always about god" is raping the text of its beauty and meaning, by destroying and context or specificity contained in the text.
As Ive already stated to many times to mention. it is not Gods intention to supplant Isa's (Gods) words, but give an expanded or greater meaning to his over all plan and intention in the passage. But only God could do this if he is actually the author in each instance correct?
can god supplant his own words? or is he bound by promises he makes?
The same would be true for anyother prophecy through time. Only God could explain what his meaning is either in the specific passage or its greater meaning
well, no. that idea is circular. or rather, spiral shaped. if only god can explain what god means, who explains what god's explanation means? you are essentially stating that god's words are nonsense. that's blasphemy. your idea that god's words are indecipherable by the human mind is blasphemy.
I see no other (real) contenders for that challenge. Where is the body of writings that supposedly steps up and claims to have fulfillmentof those prophecies and verses, in sucha detailed manner, like the life of Christ and the NT

So, if this is just a challenge by yourself about claims to fulfilled prophecy and inspiration, my bet is that there are no other real challengers to the throne. None that can boast the evidence fo the Gospels and the NT, correct
i posted it, back in the original thread. it's called "the book of kings". you should read it sometime. not only does it plainly describe the events that isaiah predicted, but those fulfillments absolutely fit the context of the prophecies. there is no stretching, no quotemining, no distortions, no translation errors.
Now isnt that just plain silly. How do we know just from a simple explanation of the text that Matthew misrepresented Isa, when you dont even know the proper explanation or interpretation. Youve given me so many, whats to say the rest of yours is not simply interprative, or that it has somehow missed ITS MARK
because it's pretty clear that isaiah was writing about someone that lived 700 years before the birth of christ. that much is not interpretative.
To know of course that Matthew did not faithfully represent God in that passage, it wolud require you to disregard that God has been involved in the process from the begininng to the end
from the beginning of what to the end of what? you just don't get the point i've been trying to make here. why should i even include matthew in that process? the arbitrary grouping of some church elders, who decided the NT canon? why should i listen to them, and not some other group of church elders?
and, i mean, some of it's common sense.
quote:

---

Saying unto them, Go into the village over against you, and straightway ye shall find an ass tied, and a colt with her: loose them, and bring them unto me. And if any man say ought unto you, ye shall say, The Lord hath need of them; and straightway he will send them. All this was done, that it might be fulfilled which was spoken by the prophet, saying, Tell ye the daughter of Sion, Behold, thy King cometh unto thee, meek, and sitting upon an ass, and a colt the foal of an ass. (Matthew 21:2-5)

---
quote:

---

Rejoice greatly, O daughter of Zion,
shout, O daughter of Jerusalem;
behold, thy king cometh unto thee,
he is triumphant, and victorious,
lowly, and riding upon an ass,
even upon a colt the foal of an ass.

(Zechariah 9:9)

---
does matthew really not understand parallelism in hebrew poetry? that the "ass" and the "foal of the ass" are the same animal, simply repeated for poetry's sake? and really has jesus tell his disciples to go steal two donkeys. yeah, what? how does he even ride two donkeys at one time? matthew does this, over and over, misquoting, mangling, mis-attributing, and sometimes even making up prophecy. why does he do this?
the answer might surprise you.
There can be no misrepresentation when in the first place it is not Matthew trying to speak about Isa, it is God speaking about Gods words, to the purpose and fulfillment of a greater plan. Which is clearly and faithfully represented in the NT. Unless you can provide another body of writings that makes even a small attempt to represent the Olds claims
i did. go back and read them. start with the book of kings.
This is wrong for two reasons. You dont even know what the interpretation is to begin with as I have demonstrated, or should I say as YOU have demonstrated.
er, no, the interpretation comes from reading, not vice versa. cart before the horse, again.
2. Only God can give Gods meaning
still blasphemy.
What the Bible says first in the very beginning is that God is in charge of everything, even prophcies and thier fulfillment
sure. i never said that isaiah's prophecy wasn't fulfilled. rather, i pointed to precisely how it was. the question is not whether or not isaiah's prophecies were fulfilled -- it's what something that happened 700 years after they were fulfilled has to do with it.
arachnophilia writes:
fine. but claims to not always equal reality. clearly, the book of mormon and the quran both claim inspiration from god, and they're both about god's purposes. why do you reject those claims? they're clearly pretty important too.
From a logical standpoint this is ture.
PROGRESS AT LAST!
From a physical and overall evidenced based position it is not.
ditto on the bible, btw. you might be interested to know just how few of the names and places in the bible are confirmed from sources that do not rely on the bible. archaeology doesn't look so favourably on biblical accuracy. we have no moses, no david, no solomon. we do have some assyrian contact. for instance, here's king jehu "son of omri" bowing before the feet of shalmanessar iii of assyria: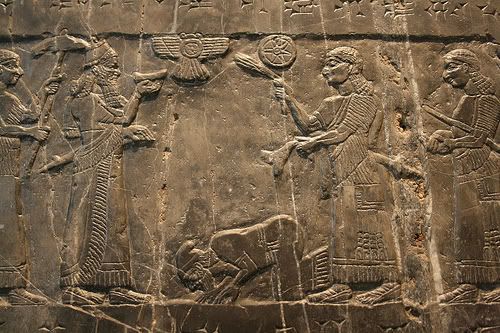 but, oh, wait. that's not actually in the bible, is it? see, the book of kings neglects to records this defeat, because jehu is perhaps the only israelite king the author likes. he likes jehu because jehu kills jezebel, removes idols from israel, and breaks the alliance with other northern levantine nation-states. it's precisely this fact that allows assyria in the door, thus the defeat. also, his father's not omri, in the bible.
These books make little or no claims to the specifics of the prophecies as do the Gospels and the NT.
yes they do. the book of mormon is full of prophecy. in fact, the modern mormon religion is still reliant on prophecy. their highest officials in the church of latter day saints are prophets.
In fact those books at times make the same claims as the NT, they derive there information from those events and that source
BoM:NT::NT

T.
Secondly, for reasons I have already staed to many times to mention, they fall short as being believed in areal sense
except by the believers who believe in them. i think you will find that there are a lot of mormons and muslims out there.
I see the difference, but what you are missing and have since we started, is that God is in charge of these matters and only he can make known the meanings, (Not You)

I know you dont see this point, but your vision is dim and clouded
yes, well, perhaps one day you will put away childish things, and stop speaking like a child. perhaps then, you will come face to face with the truth.
Thinking that any NT writer somehow misrepresented the prophets of old is misguided, because it misrepresents the nature and purpose of God overall in the Bible
not a valid reason, sorry. you believe it because you believe you.
It is therefore no reason for deconversion
no reason can ever be presented to you, because nothing can break your circular logic. keep chasing your own tail. i'm sure it's fun.
---
אָרַח