mike the wiz
Member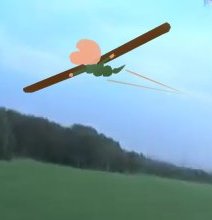 Posts: 4656
From: u.k
Joined: 05-24-2003
Message 1 of 6

(374533)




01-04-2007 5:52 PM
---
(For readers....I welcome any views, objections. Forgive me if it's nonsense, it was just a hypothetic really. PLEASE read the changes of matter atleast, at the bottom. :)

Time might be defined as motion with a consequent of change.

Matter/ energy -> motion -> change

Matter itself, is always moving and changing.

I think time itself is motion, without hinderance. It's only our perception of a lack of motion, that means that we will calculate time as independent from motion. But without motion 100% whole, there would be no time. We cannot see movement happening, yet we can count. The problem is that we ourselves our in motion, NOT that there is some magical "static-activity" independent of movement.

If I start the stop-watch and my arm is raised, and then I move my arm around, in the air, for five seconds, then we know that if I repeat that experiment, without moving my arm, time will still have passed, traditionally. But it couldn't be said, that if every motion in matter was at a static state, that time would have passed. For example, if our eyes could see ALL OF THE MOTION, then we would have to stop all motion and then count. But that would mean that our bodies would stop, in change, in growth - our thoughts would stop. Everything would obviously stop. So then, with a complete stand still to all things. For if time is indepenent of all motion, then let us observe time, without all motion.

So then, our comprehension of time is an illusion, somewhat. I think it is just our conscious awareness. It is our perceptions of time.

If we sit in a completely still room (to our eyes), then we still know time is passing, but it's only because we have a consciousness that is moving of itself. If we could sit above the room, and transcend the universe, and "see", so to speak, ALL MOVEMENT stop, then there would be no time in that room. Let's pretend that anything that went into that room, must then stop, if time is motion.

I don't think therefore, that time travel is possible. There is no "past" traditionally. There is time/motion, or not time/motion, logically. There are "changes". But I cannot visit a previous movement. That would be a nonsense in the linguistic. A confusion of thought, like drinking a brick. It's the actual thought process that has created the concept of time, where there is no such misrepresentation of motion. There is no "past" unless you speak of previous movement, according to memory. You can't visit the past. You can record it or remember it. But to actually visit the past would mean that all moments are at a standstill, or captured as stills, billions and trillions of frames. But time itself is just movement, and is only stopped when all things stop in the whole. If time was still, you could visit it, but under this definition, there either is time (motion), or there is NOT time (motion).

Movement is one thing, for it to reverse itself backward would then be to logically, do so physically ONLY, which would be a literal step backward, yet you would have moved forward in traditional- time.

Under these premisses a lack of motion becomes a lack of time, which might seem to be incoherent, but essentially, any static state, even at a molecular level, and indeed at all levels, becomes a timeless state. Time therefore, isn't limited to the universe, like some kind of tangeable boxed force that allows for events, but is possible both within the universe and outside of it, but also, possible within it, and without it.

Time is motion, regarding that there is no hinderance, and that the perceptions of motion, and lack of it , result in our ideas about "time".

It might look like this, simply put;

The potential to move, there being no force to hinder it -> Therefore movement or NOT movement, therefore giving it's strange results, to our consciousness.

So then, what about the "moment"? Why do we go along with time, like riding a wave. Because we ourselves are an oddity, in that the "you" is somewhat static, and is maintained by your body, while your body deteriorates. What makes "you" changes, but you, as an individual, come along for the ride in the compositional majority. This means that we think of time as past, present and future, but that in itelf is an illusion, because we "go with" motion's consequences. It is the comprehension of estimated movements, that we call "time". So a second, is just relative to how we understand a potential measured movement. A second is a result of the mundane.

So what is a "minute into the future"? It's just where potential motion leads to, according to natural laws, and mundane repetitions of known cycles.

THE CHANGES OF MATTER

The future and the past, are seen as places that can perhaps be travelled to, under the assumption that that is somehow possible. Based on the premise that time is movement, then as I said earlier, that journey isn't possible according to natural law. So under my premisses, what is the past, and what is the future? I mentioned that to rewind time, under my premisses, would mean that that could only happen physically. So then time is only movement in this physical universe. There either is movement or NOT. Therefore, the past and and the future, MUST BE PRESENT, logically, if time is motion. My explanation for this, is that a past event such as the American civil war, cannot be visited in time, in the traditional sense, but that it can be visited in it's present form, physically. This can be hard to think of because you have to re-learn how to think about what time is. So then, whatever became of the matter, in whatever form it takes, is, literally, the American civil war. This seems completely incoherent, but is logically sound.
Our confusion is based on two key factors. 1. Movement. and 2. Change.

If you woke up tomorrow, and there was no change from today - and everything happened the same, including having the same thoughts, then there would be no past or present that wasn't vacuous, but there WOULD be time, if time is movement. What I have done in this example, is forced you to not value matter by removing change from the equation. Universally, and objectively, the changes of matter, in form and shape, are ripples in the pond. Not one ounce of matter is ever lost. We therefore value the changes of matter. Change is a result of motion, or more specifically, the consequent of time, if I am correct about time being motion.

There is no traditional "moment", that would replace the previous moment, from this point of view. We are not travelling on a timeline. One thing that helps me picture this so that it makes sense, is to think of everything being still. Now, think of all matter, and the forms it has taken, as equal in worth. Disregard changes in form. Pretend that only what is happening is relevant. Take everything that has happened and will happen, and look at it is being present physically, because it truly is present in some form. Look at your father's father's father, as same in worth, to the bits of energy and matter he has become, universally, and that is in the PRESENT, physically. When he decomposed, his energy spread into the dirt as he was taken by lifeforms, etc. We, all of us, were present at the beginning, as we are present now, because there is no beginning, only the universe, and the changes of matter. I used to be stardust, and now I am a human, later on I might be dust, yet logically, I am. I will always be found in some form, in the present. There is no place to travel to in time. If we look at matter as equal, and ignore these changes, then the past and the future are ALSO here in the physical present. You can, under this hypothesis, disregard the traditional values and thoughts about time. Instead, everyone, and everything is here, in this place. The moment never moved, matter did.
---
Replies to this message:
Message 3 by GDR, posted 01-05-2007 3:25 AM
mike the wiz has not yet responded
Message 4 by JavaMan, posted 01-05-2007 8:26 AM
mike the wiz has not yet responded
---