Lew Alton
Inactive Member
Message 5 of 7

(274)




08-10-2001 8:49 AM

Reply to: Message 4 by Percy
08-10-2001 7:02 AM
---
quote:

---

Originally posted by Percipient:
I neglected to mention some of the evidence for a shrinking sun. This is not recent evidence, but goes back pretty far in time. Careful measurements of the sun's diameter have been made for the past 300 years, beginning with Boyle Observatory in England in the 1600s. More recently, Eddy and Boornazian did a study and discovered this shrinkage, which shows no signs of reversal or periodicity. Check out Russel Akridge's Impact article 82 at the ICR site: http://www.icr.org

--Percy

---
The Sun's size hasn't changed since the 17th century. This is well known outside of ICR circles. Measurements made in the 17th century were made long before modern equipment was made available.
http://solar-center.stanford.edu/FAQ/Qshrink.html
explains the situation. The sun is the same size now as it was 300 years ago.
From:
http://www.skepticfriends.org/hoax1.htm
"In 1979, two astronomers examined solar meridian transit records recorded between 1836 to 1953 in various journals at the Royal Greenwich Observatory in England. At first glance, the records suggested that the sun had decreased in diameter over several observational periods, but that study turned out to be flawed. Later, other astronomers discovered that our sun pulsates with varying changes in "apparent" luminosity, but the mass of the solar diameter itself remains unchanged.
[Creationists]published dozens of books and newsletters supporting this fallacy, while conveniently ignoring the fact that if our sun had truly been shrinking at such a swift rate throughout history, then many total solar eclipses recorded over the past three thousand years couldn't have taken place. The sun would've been too big for the moon to obscure, but creationists dismissed such objections as "nit-picking." Years later, many were forced to admit that they rushed to premature judgments, although some of their publications still repeat the shrinking sun myth because it conveniently suits their strategy."
From a FAQ at Cornell:
http://astrosun.tn.cornell.edu/students/brs/frequent.html#shrinkingsun
"This is absolutely not true. Unfortunately, something similar has been widely publicized by certain creationists. A study by John Eddy and Aran Boornazian, based on historical naked-eye observations of the Sun, reported that these observations indicated the Sun was shrinking at a rate of five feet per hour. This study was never published in a referreed academic journal, but it was mentioned in a couple of physics and astronomy magazines. (G. B. Lubkin, Physics Today, vol. 32, No. 17, 1979, and A. Wittman, Sky and Telescope, vol. 60, p. 190, 1980)
In response to the study, a paper was quickly published in a referreed journal which used measurements of the size of the Sun based on telescopic observations of the passage of the planet Mercury across the Sun's face, which are much more accurate than naked-eye observations, to demonstrate clearly that the Sun is not shrinking as fast as suggested by the original study, and may not be shrinking at all. (Shaprio, Science, vol. 208, p. 51, Arpil, 1980) This result was also published in Sky and Telescope. (C. A. Bennet, Sky and
Telescope, vol. 60, p. 475, December 1980)
Further, There is no reason to expect that even if the Sun is currently shrinking that it has always been shrinking, and at the same rate, which is exactly the assumption that must be made to conclude that the Sun would have been larger than the Earth's orbit millions of years ago. More recent studies show that the Sun expands and shrinks in an eighty-year cycle. In fact, the author of the original study points out that even when they thought they shrinkage was real, they didn't think it involved the entire Sun, only its outer layers, and that they expected the shrinkage to be part of an oscillatory phenomenon. (J. Eddy, Science News, vol 115, p. 420, June 1979)"
So, as you can see, the sun is not shrinking.
Lew Alton

[This message has been edited by Lew Alton (edited 08-10-2001).]
---
This message is a reply to:
Message 4 by Percy, posted 08-10-2001 7:02 AM
Percy has not yet responded
---
mark24
Member (Idle past 3393 days)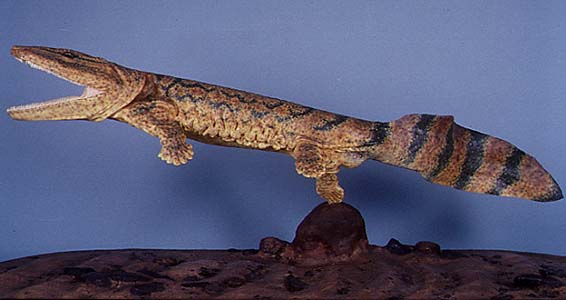 Posts: 3857
From: UK
Joined: 12-01-2001
Message 7 of 7

(499)




12-01-2001 10:45 AM
---
It was found that the data from 1850-1937 show a decrease in the suns diameter a tenth as great as that which Akridge quotes. He has used the time honoured Creationist method of using EXTREME partiality by presenting the WORST case as FACT & then extrapolating everything from these figures. The two men whose data he quotes out of context are Eddy & Boornazian. I quote from a 1979 report In Science News.

"The shrinkage does not apply to the entire solar mass, but rather to the suns outer layers. Since the rate of shrinkage is so fast, the two researchers believe is is only a temporary contraction phase. "Its unrealistic to assume this will continue" Eddy told Science News. " It does seem to imply the Sun is oscillating in some way""

Also, Scientists of the University College London & Royal Greenwich Observatory calculated from transits of Mercury over the last 3 centuries that there was evidence of diameter oscillation with a period of about 80 years & amplitude of .025%.

Subsequent studies support this theory, giving a period of 76 years.
---