crashfrog
Inactive Member
---
Because marine crabs & land crabs evolved from a common crablike ancestor hardly counts as proof that crabs, humans, amebas, and trees all evolved from a common ancestor!!
Given that the only difference between crabs, humans, ameobas, and trees is the content of their genes, then yes, it does constitute evidence that all those evolved from a common ancestor.
What would it take to go from that ancestor to a human or a tree? Genetic change. Well, we've got a mechanism that will provide that change.
If you think there's a barrier in the way, that's fine, but you have to show us what and where it is, and how it works. It's not enough - it's not even coherent - to simply say "I say there's a barrier and you have to prove me wrong."
---
This message is a reply to:
Message 30 by Monsieur_Lynx, posted 06-10-2004 11:58 PM
Monsieur_Lynx has not yet responded
---
jar
Member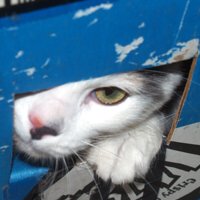 Posts: 31258
From: Texas!!
Joined: 04-20-2004
Member Rating: 2.8
---
I think I see your point. Just as there might have been a common Primate?

Or maybe a common vertebrate?

Or maybe a common plant and common animal?

Or common living thing?
---
Aslan is not a Tame Lion
---
This message is a reply to:
Message 30 by Monsieur_Lynx, posted 06-10-2004 11:58 PM
Monsieur_Lynx has not yet responded
---