Theodoric
Member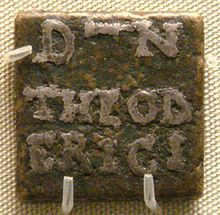 Posts: 6491
From: Northwest, WI, USA
Joined: 08-15-2005
Member Rating: 3.5
---
Mother Theresa
---
Mother Theresa does seem to have lost her faith long before she died.
quote:

---

In a letter to her spiritual director in a 1959-60 spiritual diary, Mother Teresa said, "In my soul, I feel just the terrible pain of loss, of God not wanting me, of God not being God, of God not really existing."

---
Source
quote:

---

I have no Faith -- I dare not utter the words & thoughts that crowd in my heart -- & make me suffer untold agony," she wrote in an undated letter.

In 1956, she wrote: "Such deep longing for God and ... repulsed empty no faith no love no zeal. ... Heaven means nothing pray for me please that I keep smiling at Him in spite of everything."

Mother Teresa acknowledged the apparent contradiction with per public persona, describing her ever-present smile as "a mask" or "a cloak that covers everything."

Some writings seem to suggest she doubted God's existence. She wrote in 1959: "What do I labour for? If there be no God -- there can be no soul -- if there is no Soul then Jesus You also are not true."

---
Source
So would she be disqualified from this heaven?
---
Facts don't lie or have an agenda. Facts are just facts
---
---