So you're disputing that the liver converts glucose into triglycerides, so we can look into that.
The top box in the diagram labeled "Liver" seems consistent with Taubes description of glucose having a role in the production of VLDL.
No. I am not disputing that the liver can biosynthesize triglycerides from glucose. If you will recall ...
(Note: Acetyl CoA derived from glycogen stores in the liver can be used to synthesize FFAs (box at top of figure). Acetyl CoA is produced when it is needed for fatty acid synthesis, but normally the gene is inactive and has certain transcriptional factors that activate transcription when necessary. Necessary means when there's a shortage of FFAs.)
That is the "liver box at the top".
I need to rearrange your post a bit to try and untangle all this.
Taubes says that it is triglycerides that are packaged into VLDL, not FFAs.
An FFA is a part of a triglyceride. (The proper name of triglyceride is triacylglycerol.)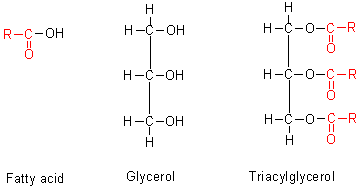 Free fatty acid = "Fatty acids can be bound or attached to other molecules, such as in triglycerides or phospholipids. When they are not attached to other molecules, they are known as "free" fatty acids.
The uncombined fatty acids or free fatty acids may come from the breakdown of a triglyceride into its components (fatty acids and glycerol)." (Wiki)
A triglycerides with its glycerol removed = 3 "free" fatty acids.
And triglycerides aren't "packaged" into anything except fat tissue.
FFAs are used in the packaging of VLDLs.
Percy quoting Taube writes:
"After we eat a carbohydrate-rich meal, the bloodstream is flooded with glucose, and the liver takes some of this glucose and transforms it into fat—i.e., triglycerides—for temporary storage."
Temporary storage, yes. In your adipose tissue (aka your butt and thighs). BUT THEY ARE NOT SYNTHESIZED FROM GLUCOSE. Not under ordinary conditions. Take a closer look at the wiki graf you quoted.
Here is the text in its entirety (broken into chunks and capped for clarity).
Triglycerides, as major components of very low density lipoprotein (VLDL) and chylomicrons, play an important role in metabolism as energy sources and transporters of DIETARY FAT.
Right off the bat it says: From dietary fat. Not from carbs.
They contain more than twice as much energy (9 kcal/g) as carbohydrates and proteins.

In the intestine, triglycerides (FROM DIETARY FAT) are split into glycerol and fatty acids (this process is called lipolysis) (with the help of lipases and bile secretions), which are then moved into the cells lining the intestines (absorptive enterocytes).
The triglycerides are rebuilt in the enterocytes from their fragments and packaged together with cholesterol and proteins to form chylomicrons. (IN THE LIVER).
These are excreted from the cells and collected by the lymph system and transported to the large vessels near the heart before being mixed into the blood.

Various tissues can capture the chylomicrons, releasing the triglycerides to be used as a source of energy.
Fat and liver cells can synthesize and store triglycerides.
Yes. Can synthesize. Not does synthesize as a normal part of carb metabolism. As I pointed out earlier, the genes for this process are INACTIVE (aka downregulated) and require a host of transcriptions factors (a cascade of signals from the body telling it to turn the gene on).
When the body requires fatty acids as an energy source, the hormone glucagon signals the breakdown of the triglycerides by hormone-sensitive lipase to release free fatty acids (FROM THE ADIPOSE TISSUE).
As the brain can not utilize fatty acids as an energy source, the glycerol component of triglycerides can be converted into glucose, via gluconeogenesis, for brain fuel when it is broken down. Fat cells may also be broken down for that reason, if the brain's needs ever outweigh the body's.
The brain runs on glucose and glucose alone. And the brain is the body's number one priority.
When the body is under stress (usually starvation), the adipose tissue is broken down into its component parts: FFAs and glycerol. The liver then takes the glycerol and manufactures glucose to send to the brain.
Here's a picture of glycolysis (breaking down glucose) and gluconeogenesis (making glucose).
Please note that they are simply the reverse of one another for the most part.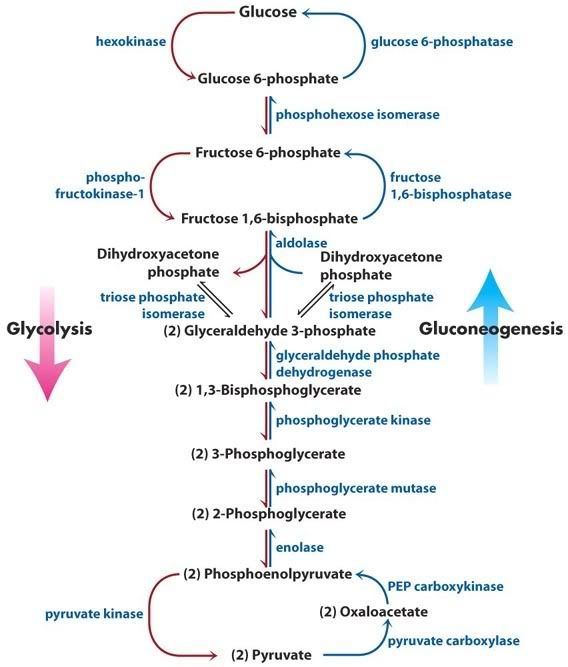 Glycolysis is the normal breakdown of glucose.
Gluconeogenesis happens only under starvation/overexertion conditions.
The body doesn't like to make sugar from fat. It is very metabolically expensive and it has as "side products" some pretty nasty things called ketone bodies.
Please also note that to make sugar, you have to start with pyruvate (at the bottom of the figure).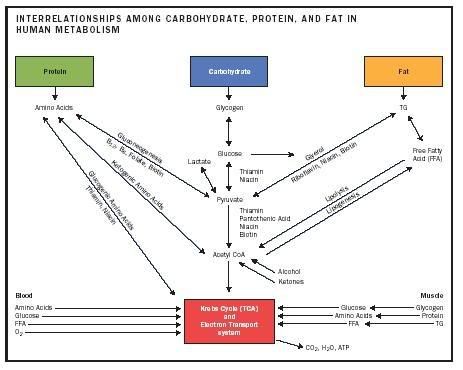 Please note that the glycerol from the triglyceride is converted into pyruvate.
OK.
Now that we have all that sorted out, let's unpack your Taube quote.
Taube writes:
After we eat a carbohydrate-rich meal, the bloodstream is flooded with glucose, and the liver takes some of this glucose and transforms it into fat—i.e., triglycerides—for temporary storage.
No. It doesn't.
These triglycerides are no more than droplets of oil. In the liver, the oil droplets are fused to the apo B protein and to the cholesterol that forms the outer membrane of the balloon.
The source of these triacylglycerols is dietary fat.
The triglycerides constitute the cargo that the lipo-proteins drop off at tissues throughout the body. The combination of cholesterol and apo B is the delivery vehicle.
This is perfectly normal. In fact, it is vital. Your body uses cholesterol in its cell membranes and to manufacture hormones.
The resulting lipoprotein has a very low density and so is a VLDL particle, because the triglycerides are lighter than either the cholesterol of the apo B. For this reason, the larger the initial oil droplet, the more triglycerides packaged in the lipoprotein, the lower its density.
This is gobbledygook. There is no "for this reason". The name VLDL just describes the particle. That's all.
And a VLDL particle is perfectly normal. Like I said, your body needs cholesterol and VLDL/IDL/LDL/HDL is the way it moves cholesterol around the body so that it can be used in lots of very important metabolic processes.
Back to your post.
This is one point that I didn't manage to garble. Both mine and Taubes' descriptions said that triglycerides, not glycogen, are released in VLDL.
Triacylglycerols are not packaged into VLDL particles. FFAs are. And they come from dietary fat.
Here is your original quote.
What he does say is that once triglycerides are stored in the liver that their release is inevitable. The more often you spike your blood sugar, the more often the liver will sock away triglycerides, and the more VLDLs the liver will eventually produce.
No. Triacylglycerol is not stored in the liver.
If it is, you have liver disease.
Glycogen (which is just a complex carb made from glucose) is stored in the liver.
This is perfectly normal.
And, one more time, VLDLs are packaged by the liver from dietary fat.
You couldn't function without either glycogen in your iver or VLDL in your bloodstream.
Triacylglycerols, when released from adipose tissue, are used to manufacture sugar (from the glycerol) and as evergy (from the FFAs).
They are not packaged into VLDLs.
And their release is not inevitable. My big butt is evidence of that.
This is another point upon which both I and Taubes were clear. Neither of us said that free fatty acids are released from the liver.
FFAs are part of triacylglycerols.
What insulin does do more directly is influence fat cells to tilt the balance of conversion back and forth between fatty acids and triglycerides toward the production of triglycerides...

MBG writes:

Elevated TG levels are correlated to insulin resistance, not normal insulin response. In other words, hyperinsulemia is correlated to elevated TGs, not blood sugar spikes. And, as I said before, the causes of hyperinsulemia are probably genetic, not behavioral (aka carb intake).

Percy writes:

Are you talking about elevated TG levels in the bloodstream? I don't believe Taubes makes any claims about insulin's influence on triglyceride levels in the bloodstream, and if he does then I missed them. I certainly wasn't trying to say anything about insulin's influence on TG levels in the bloodstream.
You said that Taube said "insulin influences" adipose tissue to push toward a greater release of TAGs. This means "elevated TAGs". If the metabolic process is "pushed" toward one end, it is abnormal and TAG levels are increased above and beyond normal conditions.
And, as I said before, that is a marker of disease.
And insulin does not do that.
You can prove to yourself that the absence of intake of glucose in the form of carbohydrates isn't stress or starvation with a simple personal experiment: Eat only meat for an entire week.
Yes. To the body, it is starvation.
The brain runs only on glucose. (See above.) If you don't eat carbs, your body is under stress. It needs a heckuva lot of glucose to run your brain.
And by manufacturing glucose from fat (and by using only protein for energy for the other vital metabolic processes), you produce those nasty ketone bodies I mentioned earlier.
I'm sure you've heard of ketoacidosis. It's what killed Madeline Neumann.
wiki writes:
This happens in untreated Type I diabetes (see diabetic ketoacidosis), and also in alcoholics after binge drinking, subsequent starvation, and the alcohol-induced impairment of the liver's ability to generate glucose (see alcoholic ketoacidosis).
Percy writes:
The body can draw upon glucose, fatty acids and protein for energy.
Under normal conditions, only glucose and FFAs.
If you are using protein, you are starving.
wiki writes:
During starvation or a prolonged fasting state, the glycogen storage is used up and the level of insulin in the circulation is LOW and the level of glucagon is very high.
The main means of energy production is lipolysis (fat breakdown).
Gluconeogenesis (glucose manufacture -- above) converts glycerol and fatty acids via the TCA cycle via acetyl CoA to produce energy.
Proteolysis (protein breakdown -- the source is your muscles) provides alanine which also enters gluconeogenesis.
Lactate produced from pyruvate enters the gluconeogenesis pathway too.
Too much Acetyl CoA produces ketone bodies which can be detected in a urine exam. The brain starts to use ketone bodies as source of energy.
Percy writes:
In the absence of insulin the fat cells in the body will tilt the balance of the FFA/triglyceride conversion process toward the production of FFAs which are released into the bloodstream for use as energy.
See? You said it again. "Tilt toward TAGs". No, it does not. Not not not. Elevated TAGs = a disease condition, like hyperinsulemia.
Also. The body can manufacture lipids (not FFAs -- there's a difference). That's known as lipogenesis. But it does so in order to manufacture things like cell membranes. Again. A perfectly normal process.
The body DOES NOT manufacture FFAs from the dietary intake OF ANYTHING.
It digests dietary fat and RELEASES FFAs.
In the presence of insulin, fat cells are a net drain upon fatty acids in the blood stream as they convert it to stored triglycerides.
Percy, this just isn't true. Adipose tissue is just storage. Your body uses all the FFAs it needs then it socks away the excess.
Percy writes:
So in light of the national experience over the past century with obesity, diabetes and heart disease, how's your theory that it's primarily due to dietary fat working out for you?
Hey. If I could untangle the root cause(s) of the national obesity epidemic (by uncovering some heretofore unknown metabolic link or some such), I'd get the FN Nobel.
That doesn't mean that Taube isn't "idea-mining" legit scientific papers. He's ripping stuff out of context and completely distorting it.
And I'd like to remind you of something, Percy.
The French have historically had very low obesity rates and very low CHD rates. In fact, Taube mentions it in the book.
"The French Paradox".
The French have historically eaten LOADS of fat and LOADS of refined carbs. Just LOADS.
So.
Why, in the past year and a half, have French obesity rates doubled?