dwise1
Member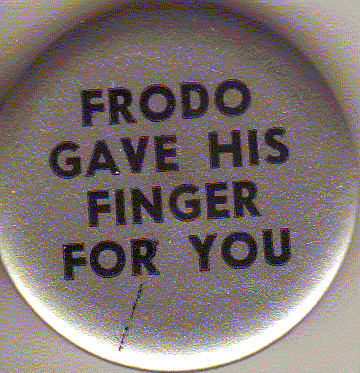 Posts: 3214
Joined: 05-02-2006
Member Rating: 6.2


(2)
Message 3 of 9

(819216)




09-08-2017 12:55 AM

Reply to: Message 1 by Tangle
09-07-2017 6:22 PM
---
Yeah, like the Babel fish:

quote:

---

Babel fish

"The Babel fish is small, yellow, leech-like, and probably the oddest thing in the universe. It feeds on brain wave energy, absorbing all unconscious frequencies and then excreting telepathically a matrix formed from the conscious frequencies and nerve signals picked up from the speech centres of the brain, the practical upshot of which is that if you stick one in your ear, you can instantly understand anything said to you in any form of language: the speech you hear decodes the brain wave matrix."

It is a universal translator that neatly crosses the language divide between any species. The book points out that the Babel fish could not possibly have developed naturally, and therefore it both proves and disproves the existence of God:



Now it is such a bizarrely improbable coincidence that anything so mindbogglingly useful could evolve purely by chance that some thinkers have chosen to see it as a final and clinching proof of the non-existence of God. The argument goes something like this:



"I refuse to prove that I exist," says God, "for proof denies faith, and without faith I am nothing."
"But," says Man, "the Babel fish is a dead giveaway, isn't it? It could not have evolved by chance. It proves you exist, and so therefore, by your own arguments, you don't. QED."
"Oh dear," says God, "I hadn't thought of that," and promptly vanishes in a puff of logic.
"Oh, that was easy," says Man, and for an encore goes on to prove that black is white, and gets killed on the next zebra crossing.



Most leading theologians claim that this argument is a load of dingo's kidneys. But this did not stop Oolon Colluphid making a small fortune when he used it as the central theme for his best selling book, Well That About Wraps It Up for God. Meanwhile the poor Babel fish, by effectively removing all barriers to communication between different cultures and races, has caused more and bloodier wars than anything else in the history of creation.




---

As for your spider (at first I thought it was supposed to have a Spiderman face on it), fake eye spots to scare off predators is a rather common defense mechanism.

Of course, the appeal, "Goddidit", directly invokes the God of the Gaps, which is perhaps the single most stupid false and self-defeating theology out there. That god can only survive through Man's ignorance and so must hide impotent in the shadows in perpetual terror of the light of Man's increasing knowledge which continually closes up the gaps within which that god exists. The irony is that "creation science" in too many of its arguments is strongly "God of the Gaps" while ID is almost purely "God of the Gaps" ("this is so complex or so improbable that goddidit").

The principal corollary of both "creation science" and ID is that if we find a natural explanation for something then that proves that God did not do it. That is false, but perhaps the ultimate irony is that they act as if they actually believe that.

Properly speaking, a creationist is someone who believes in a creator. However, one particular subset of creationists, anti-evolutionists comprised primarily of YECs, have usurped that name for themselves much to the chagrin of the other creationists. And we have all been dragged into restricting the name "creationist" to that one small aberrant group. Many of the most effective opponents of "creationism" (that YEC-ish aberration) are themselves creationists (believers in a Divine Creator), such as biologist Dr. Kenneth Miller.

As I have repeatedly stated, there actually exists no inherent conflict between evolution and creation. There exists no inherent conflict between science and religion.

An actual creationist believes that his god or gods created the physical universe. All that science does is study the physical universe in order to figure out how it works. An actual creationist can freely study science in order to learn about his god's creation.

Basically, evolution is the totality of the effects of life doing what life does. It happens whether life arose by natural causes or was suddenly poofed into existence by supernatural means. Basically, as soon as life appeared, it began to evolve. Evolution does not contradict supernatural creation.

Abiogenesis does not contradict the idea of a supernatural creator. That supernatural creator had created the natural processes, so whatever happens through natural causes, including the appearance of life, is in agreement with what that supernatural creator had set up. Hence, no inherent conflict.

The only way that any conflict can arise is when the creationist makes claims or sets conditions that are contrary to fact, contrary to reality. But then when that creationist does that, he also contradicts his creator.

Therefore, when YEC claims are disproven, that does not disprove the Creator, but rather just the foolish false YEC claims.

Should we also get into how utterly useless and counterproductive trying to inject "goddidit" into science is?
---
This message is a reply to:
Message 1 by Tangle, posted 09-07-2017 6:22 PM
Tangle has responded
---
Replies to this message:
Message 4 by Tangle, posted 09-08-2017 2:01 AM
dwise1 has responded
Message 8 by caffeine, posted 09-08-2017 6:14 AM
dwise1 has responded
---
Tangle
Member
Posts: 6402
From: UK
Joined: 10-07-2011
Member Rating: 3.5
Message 4 of 9

(819220)




09-08-2017 2:01 AM

Reply to: Message 3 by dwise1
09-08-2017 12:55 AM
---
Yeh but, no but.....

You look at something as preposterous as that, something only Salvador Dali could come up with to mess with your head whilst looking like a work of performance art, and you have to just shake your head and ponder how the hell that evolved.
---
Je suis Charlie. Je suis Ahmed. Je suis Juif. Je suis Parisien. I am Mancunian. I am Brum. I am London.I am Finland. Soy Barcelona
"Life, don't talk to me about life" - Marvin the Paranoid Android
"Science adjusts it's views based on what's observed.
Faith is the denial of observation so that Belief can be preserved."
- Tim Minchin, in his beat poem, Storm.
---
This message is a reply to:
Message 3 by dwise1, posted 09-08-2017 12:55 AM
dwise1 has responded
---
Replies to this message:
Message 5 by dwise1, posted 09-08-2017 2:16 AM
Tangle has not yet responded
Message 6 by Faith, posted 09-08-2017 3:17 AM
Tangle has responded
---